Hi wonderful world. Post-release followup and recent interview with Ben Collier has kept me pretty busy, but have a couple other fun things to report…
---
Packaging Community
Commonly major releases are followed by followup packaging work and Nyx's recent release was no exception. But rather than simply work with our delightful packaging community as I usually do I decided instead to bring order to the chaos.
I'm delighted to say we now have a tor-packagers@ list where Tor developers can reach our packaging community, and packagers can subscribe to be notified of new releases. To go along with this I also made a wiki that gives an overview of our packages…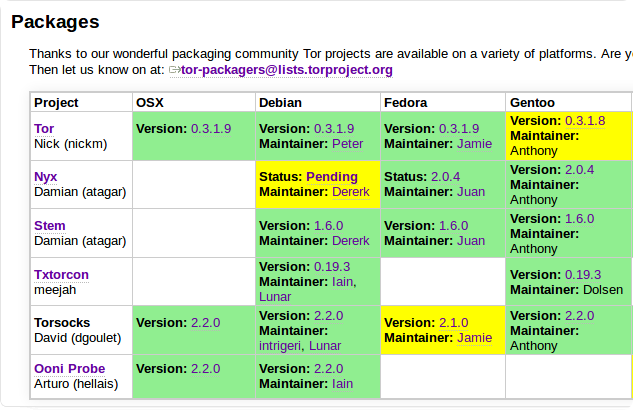 ---
Tor Relay: Caer Sidi
In folklore Caer Sidi was an otherworldly fortress, unsuccessfully assailed by the Prydwin in Arthur's quest for the holy grail. It's a name I've always wanted to use for a relay.
Flavor text aside, while ago I got permission from Dreamhost to run a non-exit relay on their cloud infrastructure so I'd have a busy relay on which to test Nyx. I haven't tried pushing the envelope, but I can say it's been a nice low-cost ($6/month) hosting experience thus far. It's now listed as a good experience on our ISP wiki.